Influence of User Interface Design in Social Media
Written by Admin
Social media platforms originated in the form of instant-messengers, online chat rooms and blogs. These methods for simplifying communication quickly gained popularity and through advances in technology, led to the social-media driven society we know today. The growth of social media has greatly influenced the way we are able to communicate and share information.
The figure below illustrates just how much the presence of social media has grown. In 2008 it was estimated that only 10% of the U.S. population used any form of social media. As of 2018 that number grew to a whopping 77% of the population.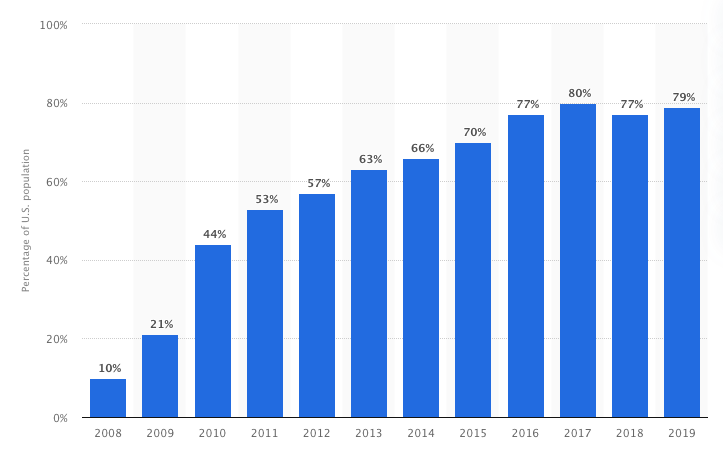 According to Statista, the average Internet user spends about 135 minutes on social media every day. There are currently a few hundred social media platforms, but the main ones we hear about are Facebook, Snapchat, Twitter, Instagram, Pinterest and LinkedIn.
While all these platforms differ in terms of the content they share, they all serve the common purpose of exchanging information with our peers. If the goal of a social media platform, no matter how large, is to share content with our friends, family and community, what is it that differentiates these six market leaders from the rest?
Three words: User Interface Design.
User interface (UI) design aims to create user interfaces for machines and software by focusing on maximizing usability and user experience. UI design is the digital face of your website or mobile app. It is how you create your online brand and will often serve as the first impression users have of your business, so it is vitally important to make it a good one.
User Interface Design and Social Media
User interface design plays a large role in determining the success of a social media platform. The social media platforms that we frequent are well designed and easy to use. As these large companies invest in quality UI design, it raises the bar for businesses looking to enter the marketplace. Companies who stay on top of rapidly advancing user interface design trends raise our expectations, as users, of how a social media app should look and feel.
"Good design builds trust. A thoughtful, well-crafted experience transmits a message of high-quality, trustworthy products." -Eliel Johnson
Social media platforms have a certain nature to them that inspires continued use, largely due to the gratification a user receives after sharing their content. But make no mistake, users will not get into the habit of regularly visiting a website that is poorly designed. A visually appealing and smooth design portrays the company as a thought leader and gives the impression of relevance.
It is estimated that there will be nearly 2.7 billion social media users in the world in 2019. The sheer volume of users on social media platforms makes the user interface design of each one susceptible to much more scrutiny.
The following three case studies highlight just how important user interface really is.
"Several social media companies are striving to find the right balance between arranging content chronologically and ranking it according to machine-learned impressions of relevance." -Jacey Fortin
Twitter
A few weeks ago, a handful of Twitter users noticed a change in the user interface of the beloved platform. Jason Murdock, a writer for Newsweek, stated that "the update appears to alter the desktop version of the platform to resemble the mobile version." This version has yet to be officially released but users were quick to gather opinions and share screenshots.
This "leak" was likely the result of the company conducting user testing in order to gather feedback prior to the actual redesign. The sudden layout update surprised users but while many expressed their dislike of change, the overall reaction to the layout itself was mixed.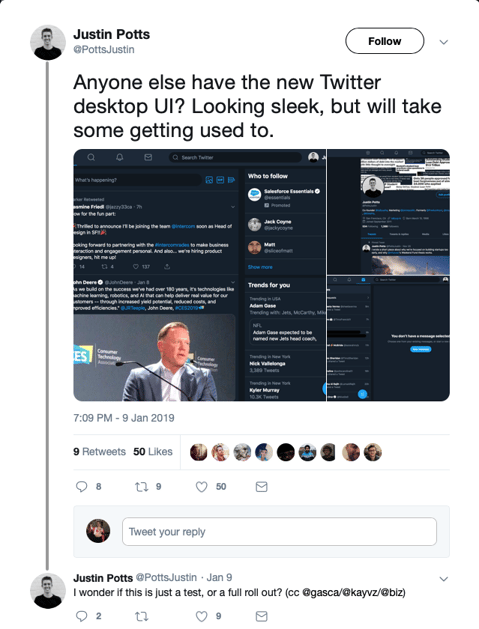 Snapchat
Snapchat is a great example of a social media platform that struggled to maintain its loyal user base due to a user interface redesign. In early 2018, Snap Inc. released an update that massively changed the layout of the app. The update combined stories with direct messages on a Friends page and added an ample amount of advertising as well as celebrity stories to the Discover page.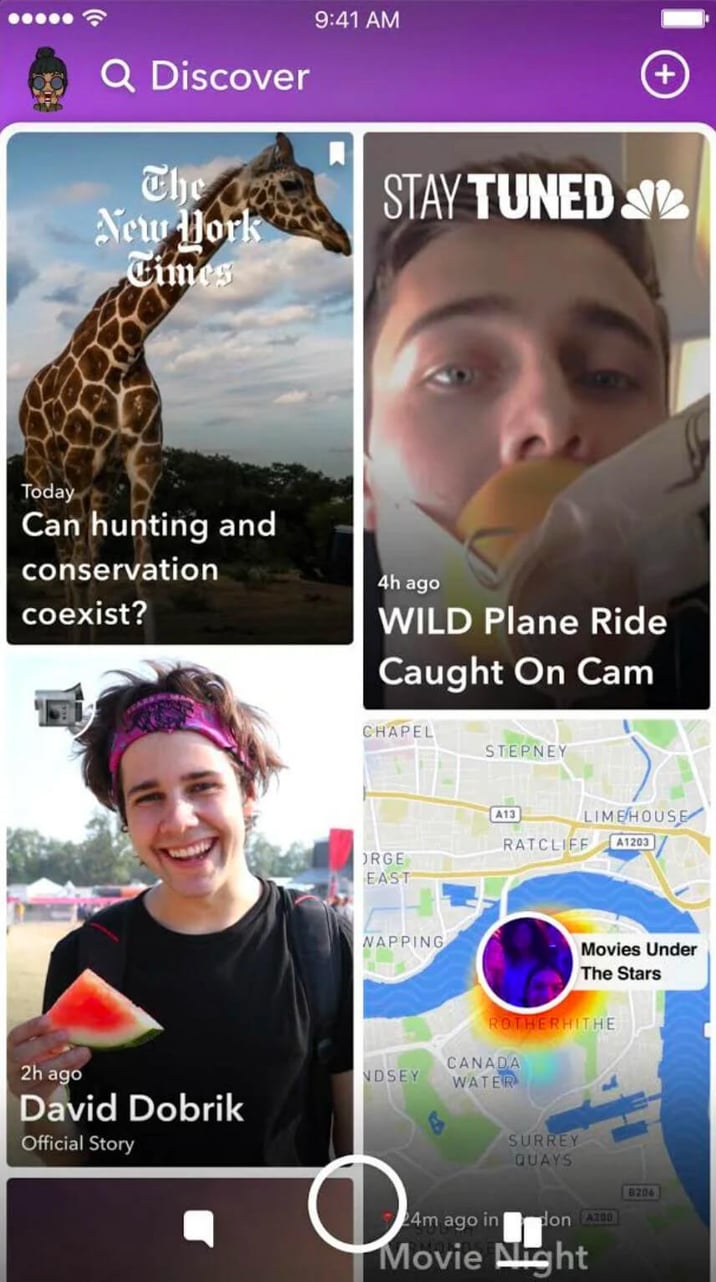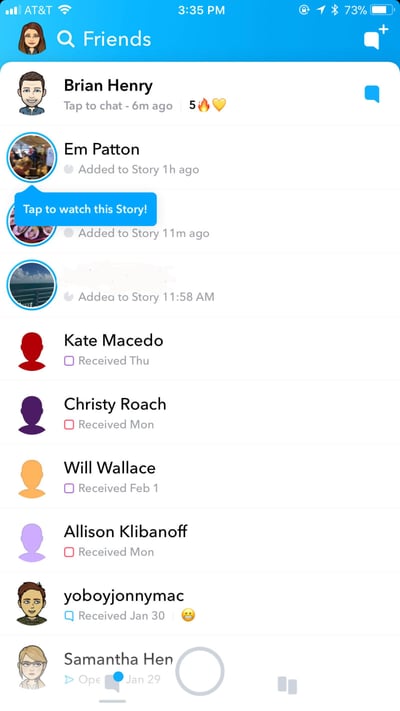 A majority of Snapchat users were discontent with the update and took to other social media platforms to complain. In addition, over one million users signed a petition to revert the update to the previous version.
The main complaint regarding the update had to do with the lack of functionality that came with it. The new layout required users to put in more effort and scroll to find the content they were interested in. As a result of the user interface redesign, the overall user experience was hindered.
The logic behind the Snapchat update was "to separate the social from the media." Now, content from your friends would be separate from content shared by celebrities, influencers or advertisers. The company was aiming to change the way users communicated via the app, but this was clouded by the drastic change to the interface.
Instagram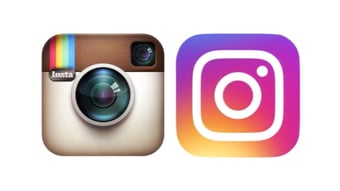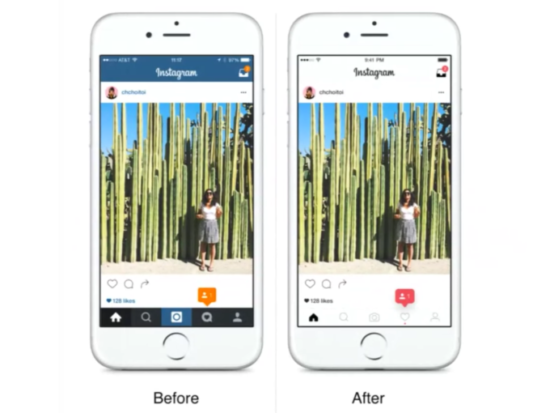 In 2016, Instagram released a rebranding update that included a new logo and in-app layout. This update also eliminated the chronological order of the content feed (timeline) and replaced it with an algorithm that displayed the most popular content first. Some users thought the shift to this new algorithm made the app more difficult to use.
The photo-sharing app has grown exponentially since its launch in 2010. This rebrand was the largest update the company had released since the initial launch. At the point of the update, some Instagram users had already been using the app for 6+ years, so the old layout and chronological feed felt comfortable. The company acknowledged that it would take time for users to get used to the change.
Importance of User Interface Design
Social media platforms differ from most other types of websites in that they have a much larger reach. There are billions of social media users today and that number only continues to grow. While that may reflect success for each social media platform, it also poses a threat.
Social media users come in big numbers and their opinions can literally make or break the platforms they use. A social media platform is nothing without shared content and users are less likely to share content on applications or websites they don't like. Users play a critical role in the success of a social media platform. A well executed user interface design will ensure that users stay engaged and enjoy spending time on the platform.
The social media platforms that we know and love are successful because their design is well-executed. Even the most established brands need to regularly update their user interfaces, but that doesn't mean they're immune to backlash.
Thanks for reading!
If you'd like to learn more about the latest tech trends, check out our other posts and subscribe to our blog. To inquire about any custom application design or development, please contact us.
Contact
We're ready for you! Fill out the fields below and our team will get back to you as soon as possible.