healthcare app development
Setting the Bar for Healthcare Application Development
Healthcare software development often proves problematic for many clinics, hospitals, and medical practices. All healthcare providers are responsible for protecting patient information and strive to develop fast, efficient, and easy-to-use solutions, but there is no one-size-fits-all software that provides the ideal combination of security and usability for all medical organizations. These healthcare applications often do not provide medical practitioners and patients with an outstanding user experience. As a result, healthcare web and mobile app developers frequently invest significant time and resources developing custom healthcare software applications.

At Seamgen, a leading custom healthcare software development company in San Diego, our goal is to change this narrative. We deliver front-end and back-end interoperability with billing, insurance, healthcare coding schemes, e-prescribing, telehealth and more in efforts to achieve your individual objectives - whether it's modernization of legacy systems, automation of daily healthcare operations, integration of novel technologies, or creation of medical staff portals.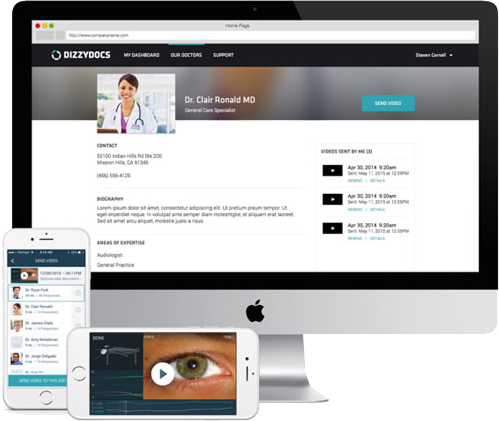 A FIRST-OF-ITS-KIND HEALTHCARE MOBILE APP
Revolutionary Remote Vertigo Diagnosis
One of our proudest accomplishments to date is DizzyDoctor, a web and mobile medical device solution that provides remote diagnosis of benign paroxysmal positional vertigo. With DizzyDoctor, medical practitioners can assess a person's eye and head movement by using their smartphone's camera and positional sensors. The smartphone camera automatically detects the pupil, tracks its movement, and analyzes the video in real-time. Plus, patients can use in-app purchasing to share their video with their physician, thereby accelerating patient diagnosis and treatment.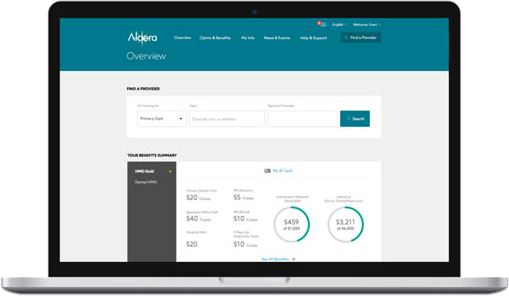 A SECURE & INTUITIVE HEALTHCARE WEB APPLICATION
Reimagined Portal Experience
We are proud to partner with Aldera, which provides technology solutions to insurance carriers and benefits programs. We enabled Aldera to revamp its member portal experience by using natural language processing (NLP) technology and a user-centric interface to help define complex medical and insurance terms. The white-label app is also built on a flexible design language to accommodate multiple brands and subscribers that use Aldera's exclusive platform.
Enterprise Healthcare Technology Integrations
We have created complete Care Delivery Platforms (EMR), integrations with SureScripts for ePrescribing, LabCorp for ordering tests, and integrations to EPIC and Centricity using HL7 messaging. We are well versed in Pharmacy Management and have created medication reconciliation applications that consume data from hospitals, clinics and Pharmacy Benefits Management (PBM) feeds to create a single source of patient data.
Seamgen can provide a variety of healthcare APIs and integrations to ensure you get the custom application that solves patient, provider, and pharmaceutical pain points. We do this through your choice of full-stack development, staff augmentation, or technical support.
IoMT (Internet of Medical Things)

HCRM (Healthcare Customer Relationship Management)

HIS (Hospital Information Systems)

Appointment Schedule Software

Web and Mobile Patient Portals

Health Monitoring Applications

Electronic Health Records

Telemedicine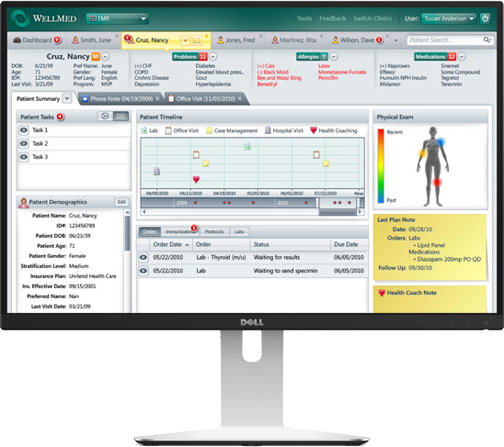 INTEGRATED HEALTHCARE WEB DEVELOPMENT
Patient Care Delivery Platform Reinvented
WellMed's CDP is dedicated to providing quality patient care with a focus on prevention. We integrated multiple systems to deliver an Electronic Medical Record closely aligned with Medicare Advantage plans. This comprehensive overhaul included a master patient index, a claims system, a practice management system, CMS data, and a custom predictive engine for diagnosis. Developed over a 3-year period, this custom medical web application is still providing value and is in use today.
Your Custom Healthcare Software Development Company
At Seamgen, we specialize in healthcare app development that integrates fragmented technologies and delivers immersive user experiences across devices. Develop a custom solution that empowers your team to transfer data among electronic medical records (EMR), patient management portals, or medical practice management software. We leverage technology and HL7, X12, ADT, and all other standards to build multi-platform healthcare web and mobile application solutions. This has allowed us to become a leading healthcare web development company, using custom software to create solutions for payor systems and portals, clinical applications, and employer wellness programs, among many others. From consulting to developing a HIPPA compliant mHealth application, you can rely on us to build a healthcare software solution that addresses inefficiencies and streamlines processes for everything from patient care to staff operations.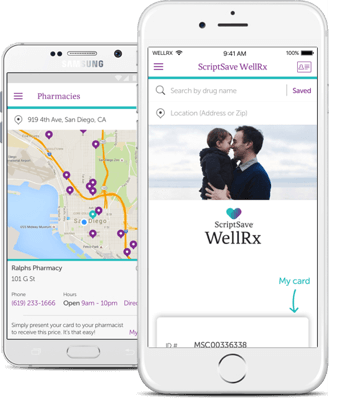 HEALTHCARE MOBILE APP DEVELOPMENT
Pharmacy Discount Benefits
The ScriptSave WellRX prescription discount card is accepted at thousands of pharmacies across North America. The app allows users to compare medication prices, across pharmacies, to find the best deal within their region. Users simply show their savings card each time they fill or refill a prescription. Savings average 45% per prescription, with potential savings of up to 80%*, and all prescription medications are eligible for savings.
Do you need a premier custom software development partner?
Let's discuss your modernization strategy and digital application goals.