In the world of software development, quality is one of the most important factors to keep in mind. From creating new technologies to maintaining software already in place, every tech company is trying to stay on the cutting edge of cultivating quality into their everyday products.
Definition of Software Quality
The word "quality" can be defined in many different ways. Most of the time the word is used to describe how a customer rates a product. It often depends on criteria such as general satisfaction, functionality, and willingness to pay.
However, Software Development takes the definition in another light. When speaking of software quality, it takes into account the delivery of the functional requirements.
It has to insure that the source code fits within the software architecture at the unit level as well as the system level.
For example, imagine an old-fashioned grandfather clock that is still running on gears.
Not only does each individual gear have to be made with precision and perfection at a unit level, but they also have to fit perfectly among the other gears within the clock to make it work.
Quality Software Development Methods
There are three practices that software development firms use in order to insure excellence in their products.
 
1. Testing
Testing is a requirement for any software developer. It comes with the basics of programming. A person writes code in x amount of time, and then spends 5x time to go back, debug, and correct any mistakes. It's the same thing as writing a paper; you need to go back and proofread it at the end for grammatical errors.
2. Quality Control
The next requirement that a software developer needs is to evaluate the quality of the product they just finished testing. This is called Quality Control.
This requirement can be practiced alongside testing as the developer needs to make sure the functionality of the product doesn't have any defects and is up to the standards of the consumer's expectations.
It is often referred to in organizations as validation, and is done by a specific team that researches and knows the consumer's needs.
3. Quality Assurance
Software development companies usually devote entire teams to this last practice. Within QA teams, their job is to improve any and all processes of ensuring quality.
Think of QA engineers as quality gurus. They take a look at events in the development stages, and provide easier ways for other developers to run tests and validations on their products.
Test-Driven Development
A common quality development technique used by many developers is called Test-driven development (TDD). It is a simple and redundant technique that is used in very short development phases.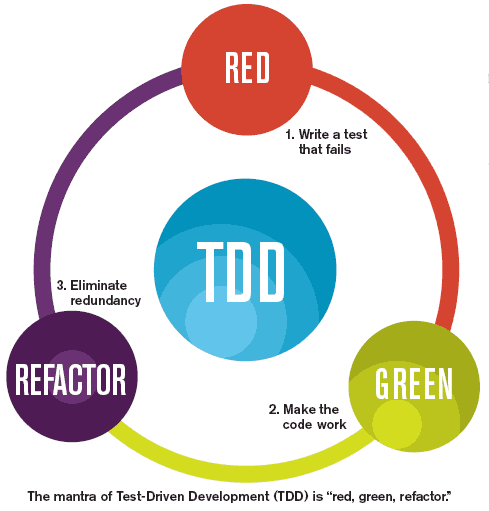 The idea behind TDD is to write code in a cycle where you are constantly checking and revising your work.
First, the developer writes code that follows a specific function you would like to see, and this is called a test. In this situation, the developer is allowed to focus more on the requirements of the product and less on the code.
Next action to be taken is running the test that will most likely fail. Once it fails, the developer then goes back to write and fix the code to make the test pass.
Once the test passes, the developer then goes back and eliminates any redundancies that are unnecessary. As soon as this has been completed, the developer repeats the cycle.
The TDD technique is very similar to the old adage of "if at first you don't succeed, try, try, try again."
Importance of Quality in Software
Although quality work isn't always the most exciting work done by a tech company, it is some of the most important, providing great value to the final product. If you have ever been frustrated with technology in your life before, oftentimes it is a result of lack of quality.
There are fundamentals to every skill set out there, and quality is at the base of being a developer.
Thanks for Reading!
Enjoyed this article? We have several more where that came from. Check out a few of our other, recent posts below highlighting software development.
What is Agile Software Development?
The Ultimate Guide to Hiring a Software Development Company