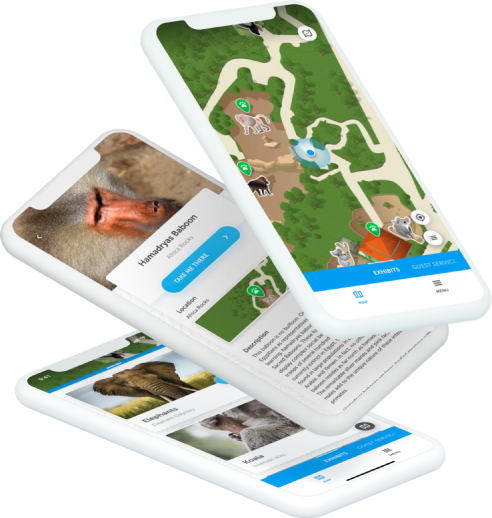 The Problem
The San Diego Zoo and Safari Park were seeking to introduce a digital guest experience, but the lack of a strong cellular connection throughout the park was a big limiting factor. Both parks wanted to offer their guests a digital map that provided quick and effective directions to the different exhibits and points of interest throughout the park.
THE SOLUTION
Get Directions and Maximize Your Time at the Park
We designed and developed an interactive mobile app experience for the San Diego Zoo and Safari Park. Within one app you can access the map for both parks. We worked closely with the Zoo to build a strategy and roadmap for a completely new guest experience. Starting with extensive stakeholder interviews, park visitor documentation, and an analysis of proposed features; we were able to build a comprehensive product roadmap.
By pairing sleek design aesthetics with location services we created a one of a kind mobile app that acted as an interactive map and showcase for the animals throughout the parks. Working closely with their team, we were able to design and develop an app that captured the organizations personality while engaging users to learn more about everything the parks have to offer.
Core Components
An Improved Guest Experience
The application enables San Diego Zoo and Safari Park visitors to get directions within the park. They can find their favorite animals, explore the dining areas, locate the nearest restrooms, and gather valuable data about each exhibit. One of the biggest challenges we had to overcome when developing the application was the parks' limited WiFi access and spotty cell coverage. With the use of wayfinding technology and GIS data, users can navigate efficiently and spend less time looking at the map and more time enjoying the animals.
BIGGEST UX CHALLENGE
Going from Print to Digital
The biggest design challenge we faced was translating the large-scale print version of the map into a user-friendly mobile experience. The original map elements had to be modified and tailored to work well as interactive components. We also worked closely with their brand manager to ensure that our designs stayed true to both the SD Zoo and Safari Park brands. The culmination of design and strategy resulted in a fun way-finding experience that spoke to all ages. The app can even be used as an educational resource to continue to drive engagement even when users are outside the park.
Bottom line: We crushed it.
See more about Seamgen's Hospitality Application Development.
Do you need a premier custom software development partner?
Let's discuss your modernization strategy and digital application goals.