A Hand-held Reference for Thousands of Produce Items
Specialty Produce is a family owned and operated food service and retail fresh produce supplier located in San Diego, CA. A premium provider for more than thirty years, Specialty Produce continues to be a leader in service, product quality and technology.
The Specialty Produce app is a hand-held reference for thousands of produce items and recipes. It contains over 2,500 produce entries, ranging from the common to the most exotic. It also has over 15,000 recipes hand selected from respected food bloggers, chefs, and journalists.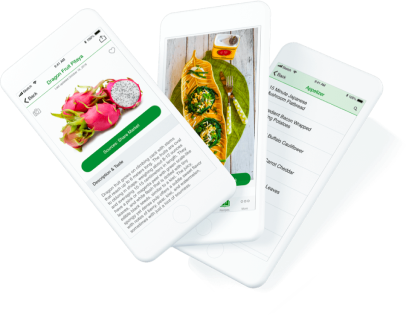 FARMERS, CHEFS, & FOODIES
Built for iOS and Android with Xamarin Forms
The Specialty Produce team had a solution in place, but the UI was clunky. It didn't follow best practices and their database would not update to sync content quickly. We optimized the code to speed up the content syncing process and made information readily available to users. We partnered with Specialty Produce to take their idea to the next level and create an improved user experience. After stakeholder interviews and defining a product roadmap, our team created wireframes and high fidelity prototypes. Our team built a native iOS and Android mobile app using Xamarin Forms. The application has two main features:
1. Produce Encyclopedia - this is the most comprehensive collection of information about fresh produce in the world. The encyclopedia contains copyrighted content that is created by Specialty Produce. The content consists of images and articles, which are added and shared daily.
2. Share Market - this is a unique concept that allows users to see where produce is being sold, as well as find unique produce items nearby. This social feed keeps users engaged and encourages continued use of the application. The application allows users to look up recipes for specific produce items that are listed in the app. Once you've found a recipe you like, you can save it to your Cookbook for future reference. You also have the ability to add produce items to your favorites list and come back to them later.
POSITIVE REVIEWS
What People are Saying
"What a great app! Not only is this app full of information on specific products, but I can see in real-time where produce is being sold, grown, and distributed. As a chef, this is another tool in the bag!!" -Chef Joey D
"I found the information extremely useful and whenever I feel like incorporating a new item in my store, I read everything about it so I can share it with my customers." -Produce Manager
"What a FANTASTIC resource on unfamiliar ingredients. This is my go-to app as I discover new greens, fruits, and veggies. I appreciate the nutritional info as well as the recipes." –Anonymous
Learn more about Seamgen's Hospitality Application Development services.
Do you need a premier custom software development partner?
Let's discuss your modernization strategy and digital application goals.