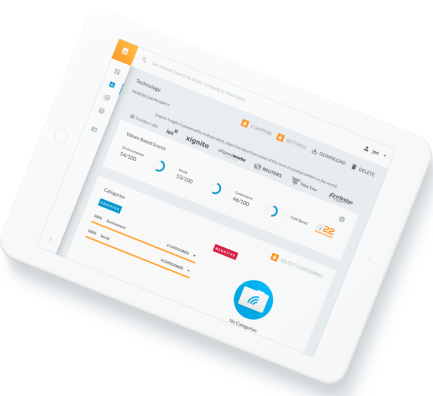 The Problem
Approximately 55% of Americans own stocks (Gallup), yet there was no platform that enabled stock owners to invest based on their values. Inspire identified the opportunity to create a biblically responsible investing platform, which provides users with data on how corporations operate and behave in accordance to Christian values.
The Solution
We partnered with Inspire to design and develop a platform that provides investors the knowledge they need to make more informed, value-driven investments. Utilizing a proprietary scoring algorithm, the platform ranks companies on more than just their financial standing. Using a biblical ranking methodology, Inspire investors can identify if a company has engaged in any behavior that does not align with their values.
Insightful Data
Simplifying Data for Investment Decisions
Creating a score based on value and behavior requires a lot of data. To achieve this, we pulled data from pricing, rating, corporate partnerships, philanthropy, outside investments, and more to ensure we were creating a consistent and optimal scoring system. After the app aggregates data from multiple sources, it determines the score that a company should receive.
We've included relevant news headlines of companies/industries within a user's investment portfolio in addition to scoring data visualizations that keep users up to date with their investments in a user-friendly, comprehensible way.
LASTING RESULTS
A Valued User Experience for ROI
As a design and development project for a financial services company, we delivered an intuitive experience that conveys professionalism and reinforces Inspire Investing's brand identity.
By uncovering data that an average investor may be unaware of, we've helped Inspire users make more informed, value-driven decisions. Consequently this combination of visual design and development created a better user experience and drove greater ROI for Inspire.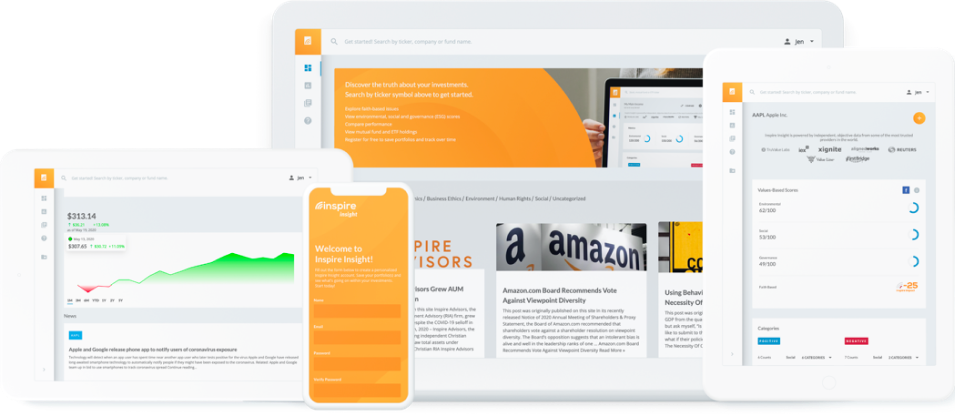 Tech Stack
AWS
Spring Boot
Java/Kotlin
Angular
PostgreSQL
Elasticsearch
Technical Approach
To deliver on Inspire's vision of providing a values-based investing research platform, the Insight application leverages over ten distinct data sources. These sources build a financial framework of securities data that are built on a foundation of economic, social, and governance (ESG) indicators. Insight is composed of a data ingestion, aggregation and processing pipeline, producing the proprietary Inspire Impact Score as well as additional ESG attributes derived from the overall dataset. Insight PRO functionality subscriptions are handled within a WordPress WooCommerce installation and single-sign-on functionality, providing seamless navigation between the two systems.
Do you need a premier custom software development partner?
Let's discuss your modernization strategy and digital application goals.